Visit my WMZQ SummerFest '99 Page
Featured Artists: Shane McAnnally, SheDaisy, Brad Paisley, Sara Evans, Shane Minor, The Kinleys, Deana Carter, AND RANDY TRAVIS!!!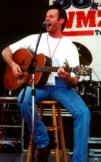 Visit my WMZQFest 2000 Page
Featured Artists: Kathy Mattea, Darryl Worley, Coley McCabe, Craig Morgan, Anita Cochran, Lila McCann, Eric Heatherly, Mark Wills, and Toby Keith.

Visit my WMZQFest 2001 Page
Featured Artists: Pam Tillis, Lila McCann, Cyndi Johnson, Mark McGuire, Tammy Cochran, and Katy Benko!